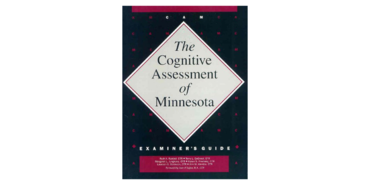 Cognitive Assessment of Minnesota
CAM
Measure cognitive abilities of adults with Neurologic impairments.
Kits

Starter & complete kits, print & digital

Test forms & reports

Booklets, record forms, answer sheets, report usages & subscriptions

All products

All tests & materials offered for CAM
Cognitive Assessment of Minnesota Record Forms Qty 25 (Print)

0761647465

Qualification Level

B

Cognitive Assessment of Minnesota Kit (Print)

0761647457

Qualification Level

B

Includes Examiner's Manual (Print), 8 Test Cards (Print), 25 Score Booklets (Print), Vinyl Carrying Case
Overview
Publication date:

1993

Age range:

Adults

Qualification level:

B
Product Details
Evaluate your adult clients' cognitive abilities with this standardized test. You'll have quick identification of general problem areas presented in a concise hierarchical approach.

Understand the theoretical framework and the means to quickly and inclusively assess significant areas of cognition. Use it to establish a baseline as well as to validate treatment.

Objective, measurable data facilitate communication between professionals so you can develop a holistic team approach.

Subtests measure attention span, memory orientation visual neglect, temporal awareness, safety and judgement, recall/recognition, auditory memory and sequencing, and simple math skills.