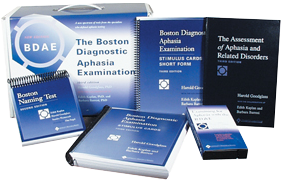 The Boston Diagnostic Aphasia Examination Third Edition (BDAE-3), a complete resource for communication modalities, including new testing options for the BNT-2, methods for eliciting discourse, new scoring approaches, and new tests for analyzing reading disorders.
Overview
Publication date:

2000

Age range:

Adults

Qualification level:

B

Completion time:

Untimed

Norms:

Percentiles based on a sample of persons with aphasia
Product Details
The Boston Naming Test, Second Edition (BNT-2) is a measure of visual confrontation naming. It was normed on 210 cognitively intact adults, ages 18-79.

Benefits

Gain critical insight into client functioning via a practical, individually administered test.
Use BDAE-3 with the BNT-2 to detect mild word-retrieval deficits.
Use the short form for rapid access to diagnostic classification and quantitative assessment.