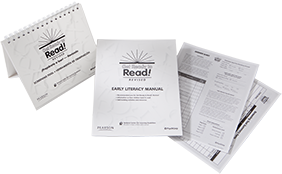 Get Ready to Read! Revised
Assess early literacy skills more easily and effectively with children as young as three with Get Ready to Read!™ Revised.
Kits

Starter & complete kits, print & digital

Test forms & reports

Booklets, record forms, answer sheets, report usages & subscriptions

Support materials

Manuals, stimulus books, replacement items & other materials

All products

All tests & materials offered for Get Ready to Read! Revised
GRTR! Complete Kit (Print)

157212864X

Qualification Level

A

Includes English GRTR Early Literacy Manual (Print), English and Spanish GRTR Stimulus Easel (Print), 25 English Child Record Forms (Print), English Score Summary Sheet (Print)

GRTR! Child Record Forms Qty 25 (Print)

1572128593

Qualification Level

A

GRTR! Stimulus Easel (Print)

1572128615

Qualification Level

A
Overview
Age range:

3:0-5:11

Qualification level:

A

Administration:

Paper-and-pencil

Scoring options:

Manual Scoring
Product Details
Specifically developed for preschoolers, Get Ready to Read!, Revised offers a brief, economical screening tool to help evaluate a child's readiness for learning how to read and write.

Benefits

Build early literacy skills.
Determine a child's reading and writing readiness.
Identify students who may need more in-depth assessment.
Backed by the National Center for Learning Disabilities.

Features

This 25 question assessment incorporates visual and auditory items that allow children to demonstrate their skills in: print knowledge, book knowledge, phonological awareness, and phonics.

Norm-referenced, standardized scores that give added reliability to this research-based tool.
Expanded age range of 3–5 years old.
Stimulus pictures for both English- and Spanish-speaking children. 
Five new items to help identify high-achieving children.
Materials include: screening tool, score sheet, skill-building activities and resources, information on how children learn to read, and individual screening booklets.
Validated across children from low- and middle income backgrounds.