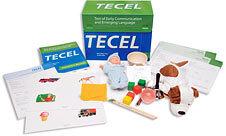 Test of Early Communication and Emerging language
TECEL
A revision and standardization of Mary Blake Huer's Nonspeech Test
Kits

Starter & complete kits, print & digital

Test forms & reports

Booklets, record forms, answer sheets, report usages & subscriptions

Support materials

Manuals, stimulus books, replacement items & other materials

All products

All tests & materials offered for TECEL
TECEL Complete Kit

12640DR

Qualification Level

B

Includes Examiner's Manual, Picture Plates, 25 Examiner Record Booklets, 25 Informal Assessment, Intervention Plans, and an Object Kit, all in sturdy storage box

TECEL Informal Assessment and Intervention Plan

12644DR

Qualification Level

B

Pkg of 25

TECEL Examiner Record Booklet

12643DR

Qualification Level

B

Pkg of 25

Estimated to ship:5-6 weeks
Overview
Age range:

2 weeks through adult

Scores/Interpretation:

Age equivalents (2 weeks to 24 months also standard scores and percentiles)

Qualification level:

B

Scoring options:

Hand-scoring

Administration Format:

Paper-and-pencil
Product Details
The Test of Early Communication and Emerging Language (TECEL) is a revision and standardization of Mary Blake Huer's Nonspeech Test, a well-regarded assessment used with both typically developing young children and older individuals with moderate to severe language delays.

Includes both receptive and expressive colour-coded items for easy diagnostic analysis of results.
Flexible administration options include interview, observation, and/or a combination of both.
Recognizes the continuum from prelinguistic communication behaviours to symbolic forms in emerging language.
Can be administered to verbal and nonverbal respondents and is suitable for assessing individuals who communicate by means other than speech.
Test materials and interview questions are designed to be cross-cultural in content, free of jargon or difficult-to-understand concepts, and appropriate for all ages.