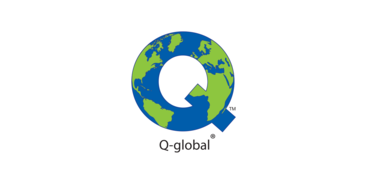 Q-global Web-based Administration, Scoring, and Reporting
Q-global
Q-global® is Pearson's web-based system for administering, scoring and reporting Pearson assessments. Q-global Video Proctoring (Q-gVP) is coming soon! Check out the new "Q-global Video Proctoring" section below for complete details. 
Ordering
Purchase Q-global assessments

To help get your Q-global order processed quickly and your inventory added to the right account, please watch this video.

Finding Products by Assessment: Expand the 'Select an Assessment' bar below to browse by assessments that offer Q-global digital products. Then click on a link to visit that assessment's page.

Once on the page, scroll down and open the product sections (Kits, Test Forms & Reports, and Support Materials) and subcategories as needed to find Q-global products. Add those individual products to your cart. You can return to this page to find additional assessments or search for assessments by or ISBNs/product codes using the search bar in the upper right.

There's more to learn.

Get a closer look at the capabilities, benefits and features of Q-global.
Product Details
Q-global was developed for mental health professionals, educators, and other professionals who want the ease, reliability, and security of a cost-effective, web-based platform for their administration, scoring, and reporting needs.

Features

Q-global houses a growing list of assessments and includes:

24/7 secure, web-based access.
Online ordering and automatic customer account setup.
On-demand, reliable scoring.
Comprehensive reporting solutions.

Introducing Q-global Video Proctoring (Q-gVP)

With Q-global® Video Proctoring you can have the convenience and confidence of face to-face conversation and administration — all within your normal Q-global workflow. You can easily assign one of 40+ assessments and proctor 'in person' via video without juggling a third-party platform. Once the assessment is complete, you can remain online with your client to consult or review results. As an added value, this subscription allows all your Q-global users under your Q-global Account to have access to Q-global Video Proctoring.

What's the cost?

Q-gVP is an account-level subscription, which means all users on your Q-global account will have the ability to use Q-gVP for the cost of a single subscription. You have two options for purchasing a Q-gVP subscription.

Subscription Options:

| | | |
| --- | --- | --- |
| Term | Item Number | Cost |
| 30-day subscription | A103000269668 | $18/month |
| 12-month subscription | A103000269669 | $180/year |

There's more to learn.

Get a closer look at the capabilities, benefits and features of Q-global.

 

Q-global Video Proctoring
Webinars
| | |
| --- | --- |
| The following training events are available for Q-global. |   |