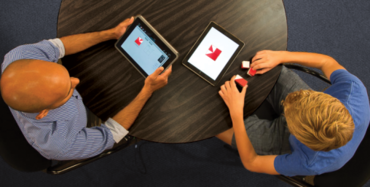 Q-interactive, Pearson's 1:1 iPad Based Assessment System
Q-interactive®
Q-interactive is a comprehensive digital system that can be used to administer and score tests traditionally given by an examiner in one-on-one settings. The Q-interactive library includes WISC®-V CDN, WAIS–IV CDN, CELF-5, and a host of other tests.
Q-interactive: License for 1 to 4 tests

QNTRUSERA

Qualification Level

B

License to use 1 to 4 tests on Q-interactive

Q-interactive: License for 5 to 8 tests

QNTRUSERB

Qualification Level

B

License to use 5 to 8 tests on Q-interactive

Q-interactive: License for 9+ tests

QNTRUSERC

Qualification Level

B

License to use 9+ tests on Q-interactive
Ordering
Download Q-interactive pricing information

Step 1: Select your annual license

Q-interactive requires an annual license—good for one year from the date of purchase—for users to gain access to the software platform. The annual fee is based on the number of test instruments available through your license.
To calculate the cost of your license, determine how many test instruments you want to access and how many clinicians will need to have access to them. These two factors will determine the cost of your license.

Step 2: Estimate annual subtest usage

Q-interactive assessments are priced at the subtest level, providing you with the greatest flexibility to meet your assessment needs. Subtest costs are accrued for each subtest administered on Q-interactive. The subtest cost covers assessment/subtest administration, scores and normative data and administration and scoring information.





Step 3: Determine if Additional Subtest Materials Needed

There are several subtests at this time that require additional materials for administration (e.g., blocks, response booklets, etc.). As a user of these assessment tools, you may already have the necessary components needed to administer these subtests. 

 

There's more to learn.

Get a closer look at the capabilities, benefits and features of Q-interactive.
Product Details
Q-interactive is a 1:1 iPad-based testing system that helps administer, score, and report various clinical assessments, including WISC–V, WIAT–III, and CELF-5. The system is ideal for school and clinical psychologists, SLPs, and educational diagnosticians.

With Q-interactive, you can create personalized batteries at both the instrument and subtest levels that are proven to:

Better serve your clients and evolve your practice.
Minimize time spent on administering tests.
Streamline workflow and reduce manual data entry.

Benefits

Quickly set up client profiles, manage test library, assign tests, and review
assessment data.
Improve administration accuracy and speed with real-time scoring and maximum flexibility.
Minimize transport of cumbersome test kits.
Eliminate the need for tracking and sharing of test kits.
Sync data back to "Central," the secure web portal, and generate reports.

Features

Testing takes place on two iPads in an app called "Assess." Use the first iPad to access test administration instructions, score and record responses, and control visual stimuli. The examinee uses the other iPad to view and respond to stimuli.

Digitally captured responses.
Immediate scores that enable you to adapt the assessment session to your client's needs.
Permanent access to scores, all raw examinee responses, and any notes taken.
Score reports can be generated and can be saved to computer for later access.

How it works

Step 1: Set up the assessment

Using Central, the Q-interactive secure web portal, administrators create client profiles and manage the test library. To create an assessment, administrators assign a test battery to a client. That assessment is then sent to the Assess app, where testing takes place.

Step 2: Administer the assessment

Assessments are administered using two iPads: one for you and for your client. The administrator uses the first iPad to score responses and control visual stimuli. The client uses the second iPad to view and respond to stimuli. Real-time scoring enables administrators to adapt the assessment session to a client's needs on the spot.

Step 3: Sync data and generate report

Once assessments are complete, data is synced back to Central, the administrative hub. From there, administrators have permanent access to scores, examinee responses, and any notes taken during the assessment. Score reports can also be viewed and saved for later access.

Test Components

Q-interactive offers an array of subtests for assessing ability, achievement, executive function, speech and language, memory, and neuropsychology. 

Library

View the complete library of Q-interactive subtests below. Click on any test to learn more or purchase.

 
Ability

Executive Function

Memory 

Achievement

Speech and Language

 

Neuropsychology
Materials

The following manipulative items, response booklets, and scoring templates are required for each test. As a user of these assessment tools, you may already have the necessary components needed to administer these subtests.

CELF-5

| | |
| --- | --- |
| ISBN | Material Description |
| 0158036468 | |
| 0158036433 | |
| 015803645X | |

D-KEFS

| | |
| --- | --- |
| ISBN | Material Description |
| 0158091132 | |
| 0158091175 | |
| 0158091450 | |
| 0158091469 | |
| 0158091477 | |
| 0158091485 | |
| 0158091493 | |

KTEA-3

NEPSY-II

| | |
| --- | --- |
| ISBN | Material Description |
| 0158234308 | |
| 0158234316 | |
| 0158234383 | |
| 0158234472 | |
| 0158234405 | |

RBANS

| | |
| --- | --- |
| ISBN | Material Description |
| 0158009673 | |
| 0158009681 | |
| 015800969X | |
| 0158009703 | |

WAIS-IV-CDN

| | |
| --- | --- |
| ISBN | Material Description |
| 774756373 | |
| 774756381 | |
| 015898093X | |
| 0158980921 | |
| 0158980913 | |
| 015897946X | |

WIAT-III-CDN

| | |
| --- | --- |
| ISBN | Material Description |
| 774757345 | |

WIAT-4 (US-normed)

| | |
| --- | --- |
| ISBN | Material Description |
| A103000190570* | Response Booklets (Pkg of 25) |

*Please contact us to purchase this item.

WISC-V-CDN

| | |
| --- | --- |
| ISBN | Material Description |
| 0158978501* | |
| 015897851X | |
| 0158978560* | |
| 0158978552* | |
| 0158978579 | |
| 015897946X | |

*Please note: this item is free of charge for WISC-V-CDN Q-interactive Customers. Please contact us to receive your complimentary item.

WMS-IV

| | |
| --- | --- |
| ISBN | Material Description |
| 0158895908 | |
| 0158895932 | |
| 0158895940* | WMS-IV/BCSE Scoring Template |
| 0158234472 | |

*Please contact us to purchase this item.

WRAT5

| | |
| --- | --- |
| ISBN | Material Description |
| 31477 | |
| 31479 | |

 
Webinars
| | |
| --- | --- |
| The following training events are available for Q-interactive. |   |