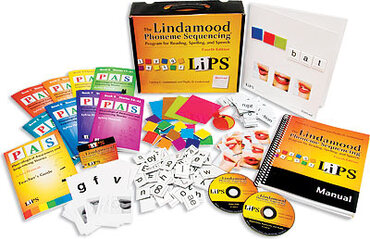 Lindamood Phoneme Sequencing Program for Reading, Spelling, and Speech—Fourth Edition
LIPS–4
Promote confidence in reading, spelling, and speech
Kits

Starter & complete kits, print & digital

Support materials

Manuals, stimulus books, replacement items & other materials

All products

All tests & materials offered for LIPS–4
LIPS-4 Complete Kit and LiPS Stick Combination Kit

13615DR

Qualification Level

B

LIPS 4: LiPS Stick (flash drive)

13614DR

Qualification Level

B

The LiPS Stick, a flash (USB) drive, contains the digital versions of the vowel circle mats, small coloured squares, large coloured squares, letter cards, large and small mouth pictures, syllable cards, and all manipulatives in JPEG files for easy use with electronic interactive boards and enables you to reproduce an unlimited set of instructional tools.

LIPS-4 Complete Kit

13600DR

Qualification Level

B

Includes Manual with 2 DVDs, 15 mouth picture magnets, 21 small coloured square magnets, 53 letter magnets and 3 blanks, 4 large coloured square magnets, 60 syllable magnets and 4 blanks, 11-1/4' x 30' white, tri-fold magnetic write on-wipe off board, 64 playing cards, folding mirror, Phonological Awareness and Sequencing Stories (set of 8 books), and Teacher's Guide
Overview
Publication date:

2011

Age range:

Preschool to adult

Qualification level:

B
Product Details
 

The Lindamood® Phoneme Sequencing Program for Reading, Spelling, and Speech-Fourth Edition (LiPS®-4) is a comprehensive multisensory program that uses explicit, systematic instruction to develop phonological awareness, decoding, spelling, and reading skills. Its goal is to develop fluent readers and competent spellers. Steps include:

Setting the Climate for Learning
Learning Sight Words and Expectancies
Identifying and Classifying Consonants
Tracking Complex Syllables and Words
Identifying and Classifying Vowels
Multisyllabic Words
Tracking Simple Syllables and Words
Reading and Writing in Context
Basic Spelling and Reading

For more than 40 years, the LiPS program has successfully addressed the reading difficulties of a wide range of individuals, including students with functional speech-language delay, second language learning, dyslexia, autism, apraxia, pervasive developmental delay, traumatic brain injury, and stroke.

LiPS Stick

The LiPS Stick, a flash drive containing a broad collection of the digital versions of the manipulatives and reproducible resources, is a valuable and cost-effective resource. The LiPS Stick contains vowel circle mats, small coloured squares, large coloured squares, letter cards, large and small mouth pictures, syllable cards, and all manipulatives in JPEG files for easy use with electronic interactive boards. With the LiPS Stick, you can reproduce instructional tools and make unlimited sets of manipulatives for your students' use at home, in the clinic, and at school.