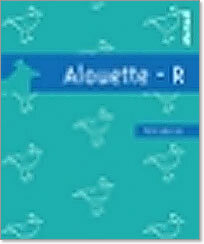 Test d'analyse de la lecture et de la dyslexie, « l'alouette »—forme révisée
ALOU-R
Détermination des typologies d'erreurs en lecture

Veuillez prévoir environ 6-8 semaines pour la livraison de ce produit.
Kits

Starter & complete kits, print & digital

Test forms & reports

Booklets, record forms, answer sheets, report usages & subscriptions

Support materials

Manuals, stimulus books, replacement items & other materials

All products

All tests & materials offered for ALOU-R
ALOUETTE-R - Trousse complet

48500011

Qualification Level

B

Comprend la Planche de texte illustrée, le Manuel, 25 Fiches récapitulatives individuelles et 25 Feuilles de protocole

ALOUETTE-R Manuel

48502010

Qualification Level

A

Estimated to ship:6 weeks

ALOUETTE-R planche texte illustrée

48513010

Qualification Level

A

Estimated to ship:6 weeks

ALOUETTE-R Feuille de protocole pour la notation des fautes

48503010

Qualification Level

A

25/paq

Estimated to ship:3 weeks

ALOUETTE-R Fiche récapitulative

48510010

Qualification Level

A

25/paq
Overview
Publication date:

2005

Age range:

de 6 à 16 ans

Qualification level:

B

Completion time:

3 minutes

Scoring options:

notation manuelle

Administration Format:

papier et crayon
Product Details
La révision de l'Alouette a été réalisée pour adapter ce test aux exigences actuelles des professionnels.

La détermination d'un âge de lecture, tel qu'il avait été proposé dans la première version de l'Alouette, est abandonnée, car les recherches récentes ont montré combien cette notion est complexe et source de confusion. En effet, la notion d'âge ou de niveau de lecture renvoie à de multiples composantes de la lecture que seule la lecture à voix haute d'un texte, tel que celui de l'Alouette, ne permet d'identifier que partiellement.

L'objectif de l'Alouette est, par l'évaluation des fautes et de la vitesse de lecture, de fournir des indications de performances dans une situation de lecture à voix haute. Elle se distingue par là même d'autres tests qui ne proposent que la lecture de mots isolés. L'Alouette sera donc principalement utilisé en tant qu'outil de dépistage des difficultés en lecture en apportant des éléments sur la correction de la lecture et des éléments de vitesse en lecture.

Dans cette version révisée, de nouvelles feuilles de notation des résultats sont proposées, avec d'une part, une analyse quantitative des résultats (vitesse de lecture, nombre d'erreurs ou nombre de mots plus correctement, indice de précision et indice de vitesse), et d'autre part, des propositions d'analyse qualitative des erreurs.

Avantages

Dépistage de la performance en lecture dans une situation de lecture à haute voix d'un texte.