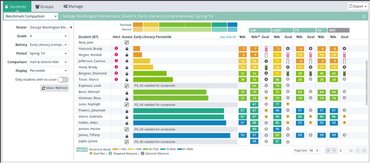 aimswebPlus
aimswebPlus screens and monitors the reading and math skills of PreK–12 students. With its robust set of standards-aligned measures, aimswebPlus is proven to uncover learning gaps quickly, identify at-risk students, and assess individual and classroom growth. aimswebPlus also has add-on screeners for behavior and dyslexia for a comprehensive, all in one system. Guidance on using this test in your telepractice.
Overview
Age range:

Measures and norms for Grades K-8; May roster PreK using kindergarten measures and norms; May roster grades 9-12 using grade 8 measures and norms.

Completion time:

Progress Monitoring measures are brief and vary from 1 – 7 minutes.

Benchmarking varies depending on grade level and measures selected.

Administration:

Primarily online administration and scoring with some paper-and-pencil administrations.

Scoring options:

Browser-based and manual score entry options available

Report Options:

Real-time reporting at the district, school, grade, class and student levels

Telepractice:
Ordering
Pricing information:

aimswebPlus Complete for grades K-8
ISBN: AIMPLSCSUB
Price: $8.75/student/year

aimswebPlus Reading for grades K-8
ISBN: AIMPLSRDCSUB
Price: $6.65/student/year

aimswebPlus Math for grades K-8
ISBN: AIMPLSMDCSUB
Price: $6.65/student/year

aimswebPlus Shaywitz DyslexiaScreen (add-on)
ISBN: 0150021860
Price: $1.05/student/year
For full pricing details, or to order, please download the 2022/2023 aimswebPlus Order Form

Want to know more?

For information about aimswebPlus Canadian Edition, or a live demonstration of the system, please contact an Assessment & Technology Consultant for your region.

There's more to learn

Get a closer look at the capabilities, benefits and features of aimswebPlus.
Product Details
aimswebPlus provides the framework, data, and guidance that administrators and teachers need to efficiently allocate and evaluate core instruction and interventions, helping them improve outcomes for all students based on accurate, continuous, and direct student assessment.

Benefits

Brief: most assessments take 1 to 4 minutes to complete
Predictive: provides accurate predictions of reading and math achievement
Sensitive to improvement: an increase in ability will be reflected in rising scores on the measure—ideal for showing growth
Easy to administer and score by a wide range of education personnel
Accurately measure reading, math and language arts skills
Produces consistent results across time or testing conditions

Features

At the foundation of aimswebPlus are general outcome measures, a form of curriculum-based measurement (CBM) used for universal screening and progress monitoring.

Designed specifically to universally screen, progress monitor, and report data
Includes assessments for fundamental reading, math, spelling, and writing skills for grades K-8, as well as norms for K-12
Browser-based scoring on any device
Ideal for RTI and tiered instruction

Telepractice

Find out how to use this test in your telepractice.

 

There's more to learn

Get a closer look at the capabilities, benefits and features of aimswebPlus.
Webinars
| | |
| --- | --- |
| The following training events are available for aimswebPlus. |   |