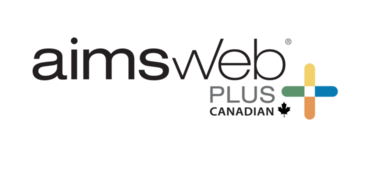 aimswebPlus Early Literacy - Canadian Edition
aimswebPlus-Cdn
aimswebPlus Canadian Edition screens and monitors the early literacy and reading skills of Canadian PreK–grade 2 students. With its robust set of standards-aligned measures, aimswebPlus-Cdn is proven to uncover learning gaps quickly, identify at-risk students, and assess individual and classroom growth. aimswebPlus-Cdn also has an add-on screener for dyslexia for a comprehensive evaluation of early literacy. Guidance on using this test in your telepractice.
Overview
Age range:

Measures for grades K-2

Qualification level:

A

Completion time:

Measures are brief and vary from 1 – 7 minutes.

Scoring options:

Web-based scoring with some manual scoring exceptions.

Administration Format:

Online administration and scoring (with some exceptions)

Telepractice:
Ordering
A NEW Canadian edition of this popular platform now available!

Pricing information:

aimswebPlus Canadian Early Literacy for grades K-2
ISBN: A103000242267
Price: $6.65/student/year

aimswebPlus Canadian Shaywitz DyslexiaScreen (add-on)
ISBN: 0150021860
Price: $1.05/student/year

For full pricing details, or to order, please download the 2021/2022 aimswebPlus Canadian Order Form

Want to know more?

For information about aimswebPlus Canadian Edition, or a live demonstration of the system, please contact an Assessment & Technology Consultant for your region. 

 

 
Product Details
 

aimsweb®Plus Canadian Edition provides the framework, the data, and the guidance that Canadian educators need to efficiently allocate and evaluate core instruction and interventions—helping them improve outcomes for students based on accurate, continuous, and direct student assessment.

Designed specifically to universally screen, progress monitor, and report data, aimswebPlus Canadian Edition includes assessments for fundamental early literacy and reading skills for grades K-2.

aimswebPlus Canadian Edition utilizes web-based scoring on a computer/laptop or tablet, and is also ideal for virtual learning environments.

 

Overview

Early intervention is the key to success.
Research has found that early identification of at-risk students leads to increased success—both in and out of the classroom. With aimswebPlus Canadian Edition, you can measure what matters—when it matters:

Meet accountability requirements
Uncover learning gaps faster and more accurately
Screen and monitor students in one seamless system
Track student progress for more effective instruction and interventions
Collect literacy data on your student population

Benefits:

Brief: Monitoring measures take 1-4 minutes to complete, more comprehensive screening batteries completed in approximately 30 minutes.

Predictive: Provides accurate predictions of reading achievement by the end of the year.

Sensitive to improvement: an increase in ability will be reflected in rising scores on the measure—ideal for showing growth, as frequently as weekly!

Intuitive: Easy to administer and score by a wide range of education personnel

Accurate: measures reading and language arts skills with precision

 

Features:

Proven technology

aimswebPlus was designed by educational experts and has undergone a stringent development and standardization process. The system uses proven, standards-based assessments to screen and monitor student performance with real-time data collection and on-demand reporting. Its secure, web-based system can be integrated with student information systems for ease of access. 

These assessments are built upon brief, valid, and reliable skill measures.

aimswebPlus Canadian Edition resides on Canadian servers.

Teacher-friendly

We value our teachers' dedication to students. Large Canadian class sizes often mean scarce resources and little time to monitor student achievement. To assist with the demands of accommodations in learning, aimswebPlus Canadian Edition is teacher-driven for flexibility in assessment practices, and can be used to quickly screen and monitor student progress at any point in the assessment cycle. The regular use of this platform encourages quick and easy administration, accurate results and personalized learning.

 

Universal Screening

Universal screening—benchmarking for student reading & literacy abilities—makes it possible to accurately measure student and classroom performance and identify students at risk for literacy gaps or reading difficulties—including dyslexia—all within a single class period. For most students, a battery of multiple brief measures is used for universal screening. These standards-based measures are designed to measure essential knowledge and skills as efficiently as possible. The multi-measure battery provides student and classroom profiles of strengths and weaknesses to tailor instruction to the needs of all students.

 

Progress monitoring

Because aimswebPlus Canadian Edition measures are designed with sensitivity to detect change, the scores reflect progress that can occur over relatively short intervals. Progress monitoring enables more frequent assessment to track individualized rate of improvement, and documents each student's response to instructional changes. Curriculum-based measures that are used for progress monitoring are quick to administer, simple to score, and are regularly delivered to provide continuous student progress data.

Reporting

aimswebPlus provides comprehensive reporting for each screening and monitoring component. Each report highlights both performance and progress—enabling educators to make informed decisions about students and instruction. Reports include data for students, classrooms, grades, schools, and districts, as well as student norms at the local and district level. Reports include data for students, classrooms, grades, schools, and districts, as well as student norms and at the school/district level. Student reports can be generated in either HTML or PDF format, and can be filtered to display the precise data needed. The level of information available on each report is based on the user's role and access level. Parent-friendly screening and progress monitoring results are also available.


Areas of Assessment:

aimswebPlus Canadian helps to evaluate a wide range of needs for students such as reading letters, alphabetic principle, phonics, listening comprehension, vocabulary, phonics skills, oral reading, and spelling. These tasks are categorized into benchmarking and progress monitoring measures within literacy, including:

The Shaywitz DyslexiaScreen™ —an optional add-on to aimswebPlus—puts the power of reliable and efficient dyslexia screenings directly into the hands of educators using aimswebPlus.

Created by Dr. Sally Shaywitz—a global leader in dyslexia—Shaywitz DyslexiaScreen emphasizes phonological, linguistic, and academic performance based on teacher observations providing an evidence-based, user-friendly observational rating scale for grades K–2. It is intended for mass screenings to sort students—those at risk and those not at risk for dyslexia—quickly. The data can be used to set direction for intervention and instructional planning for all students.

 

 
Webinars
On-Demand, Recorded Webinar:

The NEW aimswebPlus Canadian: an Overview

Presenters:  Michael Charron and Nadira Chand
Recorded: February 18, 2021

In this webinar, you'll see how Canadian educators can uncover learning gaps at the individual, classroom and system level to identify where your students need the most help—allowing much-needed time to intervene early.

Are you (or your teachers) supporting student reading development through virtual learning?
aimswebPlus Canadian is ideal for distance learning, too!
See how it can be employed to help uncover gaps in student reading via telepractice.