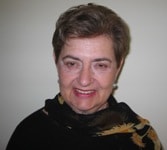 Ann E. Boehm, PhD
Dr. Ann E. Boehm is professor emeritus of Psychology and Education in the Department of Health and Behavior Studies. She received her PhD from Columbia University in 1966 and has been a faculty member at Teachers College, Columbia University for 40 years, where she continues to teach and conduct research.
She specializes in psycho-educational assessment, observation, and concept acquisition in young children. She is also interested in issues relating to young children's developing successful literacy skills and children's strategy use in following multiple-step directions. Boehm has served as chair of the former Department of Developmental and Educational Psychology and led an intergenerational literacy project at Teachers College Literacy Center.
In conjunction with American Printing House for the Blind, a raised print version and a big picture version of the Boehm-3: Preschool published in 2014. She recently co-authored a book focused on preschool assessment (Brassard, M.R. & Boehm, A.E., 2007. Preschool Assessment: Principles and Practices. New York: Guilford Press). She also worked on a white paper, Assessment to Intervention Using the Boehm Test of Basic Concepts | Third Edition (Boehm-3), 2013, describing the use of the test is available through Pearson.