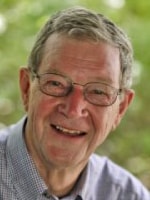 David P. Campbell, PhD
David is author of the widely used Campbell™ Interest and Skill Survey (CISS®).  Dr. Campbell was educated in the Midwest, earning his BS and MS degrees from Iowa State University, and his PhD in psychology from the University of Minnesota. In 1960, he joined the faculty of the University of Minnesota, rising to full professor in eight years. During that period, he co-authored the widely used Strong-Campbell Interest Inventory.
In 1973, he was a Visiting Fellow at the Center for Creative Leadership® in Greensboro, North Carolina and then joined the Center as Executive Vice-President. In 1981, he was appointed as the first Smith Richardson Senior Fellow. In 1979, he was an Honorary Research Fellow at the University of London and in 1986-1987, he was a Distinguished Visiting Professor at the U.S. Air Force Academy in Colorado Springs.  His honors include the E.K. Strong, Jr. Gold Medal for excellence in psychological testing research. In 2012 he was presented with the Lifetime Achievement Award from the American Society for Training and Development (ASTD).