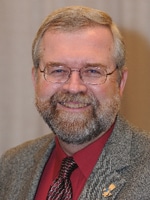 Robert Quesal, PhD, CCC-SLP, BRS-FD
Robert W. Quesal, PhD, CCC-SLP, BRS-FD is a professor in the Department of Communication Sciences and Disorders at Western Illinois University. A board-certified specialist in fluency disorders, Dr. Quesal has served as the associate coordinator and newsletter editor for the American Speech-Language-Hearing Association Special Interest Division for Fluency Disorders.
He was also a charter member of the National Stuttering Association's Research Committee. He is a Fellow of the American Speech-Language-Hearing Association, and the recipient of the Western Illinois University Provost's Award for Excellence in Scholarly Activity.
Dr. Quesal has published numerous articles and book chapters related to stuttering. Dr. Quesal's interest in the assessment of "under-the-surface" features of stuttering dates back over 30 years. During his career, he has taught courses in a variety of areas, including stuttering, speech science, anatomy, research design, voice disorders, diagnostic methods, neuropathologies, and professional writing, and he has presented workshops on stuttering assessment and treatment for the National Stuttering Association and other organizations.