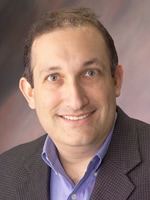 J. Scott Yaruss, PhD, CCC-SLP, BRS-FD
J. Scott Yaruss, PhD, CCC-SLP, BRS-FD, ASHA Fellow, is an associate professor and director of the Master's Degree programs in Speech-Language Pathology in the Department of Communication Science and Disorders at the University of Pittsburgh.
A board-recognized specialist and mentor in fluency disorders, Dr. Yaruss has served on the board of directors for the National Stuttering Association and as associate coordinator for the American Speech-Language-Hearing Association's Special Interest Division for Fluency Disorders. His research examines factors that may contribute to the development of stuttering in young children as well as methods for evaluating stuttering treatment outcomes.
Dr. Yaruss has published more than 50 papers in peer-reviewed journals and more than 85 other articles, papers, and chapters on stuttering. He is co-author of the Overall Assessment of the Speaker's Experience of Stuttering, published by Pearson. He is also co-author of School-Age Stuttering Therapy: A Practical Guide and Minimizing Bullying for Children Who Stutter, published by Stuttering Therapy Resources, Inc.
He has been named Speech-Language Pathologist of the Year by the National Stuttering Association and he has received the University of Pittsburgh School of Health and Rehabilitation Science Dean's Distinguished Teaching Award.
Dr. Yaruss teaches classes on stuttering and counseling methods for speech-language pathologists at the University of Pittsburgh, and has conducted more than 350 full-day continuing education workshops around the world designed to help clinicians improve their ability to help individuals who stutter.