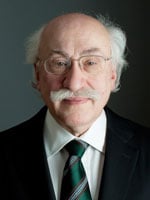 Samuel J. Meisels, EdD
Dr. Samuel J. Meisels is the founding executive director of the Buffett Early Childhood Institute at the University of Nebraska where he is also a professor of Child, Youth, and Family Studies at the University of Nebraska-Lincoln and holds courtesy appointments on the other Nebraska campuses as a professor of public health, public administration, and education.
A former preschool, kindergarten, and first-grade teacher, he was senior advisor in early childhood development for the Developmental Evaluation Clinic of Boston Children's Hospital and before that was a professor in the Department of Child Study at Tufts University and director of the Eliot-Pearson Children's School. For 21 years Dr. Meisels was on the faculty at the University of Michigan, where he is now professor and research scientist emeritus. In 2002 he became the president of Erikson Institute, the nation's leading graduate school in child development.
Over more than 11 years that Meisels headed Erikson, the Institute made major commitments to applied research in the Chicago Public Schools, expanded clinical programs for children and families, added new community-based interventions for children from birth to age 8, initiated professional development programs — online and in person — for Pre-K-Grade 3 throughout the Midwest, and built a new campus. When he left to start up the Buffett Institute in June 2013, he was named president emeritus at Erikson.
A leading authority on the assessment of young children, Dr. Meisels has published nearly 200 research articles, books, monographs, and assessments, and is co-author of the Work Sampling System, the Early Screening Inventory, and the Ounce Scale. He is also co-editor of The Handbook of Early Childhood Intervention. His research focuses on the development of alternative assessment strategies for young children; the impact of high-stakes testing on children and teachers; and developmental screening in early childhood. He holds a doctorate from the Harvard Graduate School of Education and an honorary doctor of humane letters from Roosevelt University.