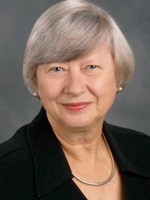 Elisabeth H. Wiig, PhD
Elisabeth Wiig, PhD, focuses on analyzing the language, learning, and communication status of individuals, and creating effective intervention strategies for the acquisition and use of knowledge. While her particular emphasis is children and adolescents, she also addresses the needs of adults.
Dr. Wiig holds a PhD from Case-Western University and was professor and department chair at Boston University for 17 years.
She has authored six texts, five psychoeducational tests, and ten intervention programs — all used throughout the world. She has also published over 60 research articles and is a regular keynote speaker and presenter at national and international conferences.
Dr. Wiig was the 2001 recipient of the Frank Kleffner Lifetime Achievement Award and received Honors of the Association from the American Speech Language Hearing Association in 2005.