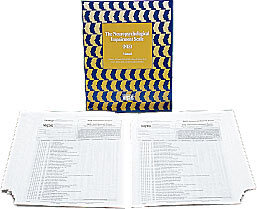 Neuropsychological Impairment Scale
NIS
Brief assessment designed to screen for neuropsychological symptoms in adults
Kits

Starter & complete kits, print & digital

Test forms & reports

Booklets, record forms, answer sheets, report usages & subscriptions

All products

All tests & materials offered for NIS
NIS Complete Kit

298WP

Qualification Level

B

Includes 25 Self-Report AutoScore Answer Forms, 25 Observer-Report AutoScore Answer Forms, Manual with Senior Interview Supplement and Response Card

NIS Senior Interview Kit

298DWP

Qualification Level

B

Includes Senior Interview AutoScore Answer Forms (pkg 25), and Manual with Senior Interview Supplement and Response Card

NIS AutoScore Answer Form Observer-Report

298BWP

Qualification Level

B

Pkg of 25

NIS AutoScore Answer Form Self-Report

298AWP

Qualification Level

C

Pkg of 25

NIS AutoScore Answer Form Senior Interview

298EWP

Qualification Level

B

Pkg of 25
Overview
Publication date:

1994

Age range:

17 years and older

Qualification level:

B

Scoring options:

Hand-scoring

Administration Format:

Paper-and-pencil
Product Details
The NIS assessment can help elicit dignostically relevant information that patients often fail to mention in a clinical interview.

Observer report adds helpful perspective

An alternative version of the assessment, the observer report, can be completed by a relative or close friend of the patient, providing a different perspective on the patient's symptoms.
The test also offers the Senior Interview version (40 questions read by the examiner) with the patient indicating responses on a large-print visual cue card.