Meet Jeremy Holder, Customer Experience Specialist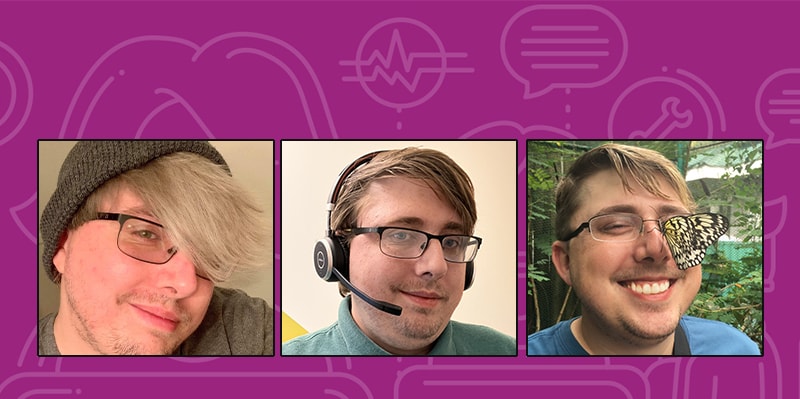 Renaissance Man
Jeremy, the newest addition to our Canadian Customer Experience team, began his career at Pearson completely by chance. After taking a leap of faith and following a former coworker's advice to apply, he landed in Customer Care and found his "calling". We sat down with Jeremy to learn more about his personal views on what each customer's experience should be, how he brings that vision to life, and what brings him joy in his free time.
Came to Pearson by chance
Initially, it was completely by chance. My supervisor at my previous full-time call centre job was hired at Pearson. He was excited about his new role and what Pearson stood for, so I decided to take a leap of faith. I applied for a temporary position in Customer Service within the K–12 group and was hired on the spot! I felt strongly that I'd found something special. I believed in the value of what we had to offer our customers and was confident that I could help make a difference in efficiency. After a month, I knew it was a good fit for me. I'm able to use a creative element of my personality that most customer care teams may not provide the possibility for; traits that help the business and our customers grow.
I joined the K–12 team in 2016 as a temporary employee and was later integrated into the Clinical Customer Support team as a full-time employee. I was with Pearson until 2020 and was delighted to be contacted about rejoining the team in 2021. I was excited to have the ability to use my customer-focused approach, my knowledge of the products, and my technical support abilities to give each person the best possible experience.
Setting Pearson's Customer support apart
When a customer wants product info or has a question or concern, I try to go one or two steps beyond what they've asked for. I want to be the last point of contact that acts on getting their request or issue handled.
Here's a specific story: I had a customer who had a Q-interactive account and needed all their licenses to start on the same day.  The customer required assistance and had been communicating with a few different departments before they got to me. My initial message to them was, "Don't worry, I've GOT this. Here's our plan as to how I'm going to resolve this. Please know I will see this through!" I think it's important to validate customers' feelings about their experience and let them know you're going to get any issues resolved.
Defining Success
What does success look like for you?
To me, success in my role looks like customer gratitude; if they're happy to know I'm handling their call, I feel successful. I ask myself "Did I provide everything the customer needed? Did I offer everything I could?" I love it when I can share information that is helpful to them, especially when they're clear on what was conveyed.
What have you learned through this role/experience so far?
I've learned that not everything is simple, but when things seem complicated initially, taking it one step at a time will lead to success (or in this case, a happy customer).
Is there something that you'd say to all customers if given the opportunity?
Don't let an issue overwhelm you; it's not as complicated as it seems. We are here to help.
What can you tell us about your life outside of Pearson?
I'm from Hemphill, a small town in east Texas. My brother and I were basically raised by my paternal grandparents who instilled wisdom and guidance in us as if we were their own. In high school, I worked at a local grocery store in most any position I could get my hands on. It was there I learned that I don't sit still for too long as I get curious and seek to try and learn everything at least once. I have maintained that same ambition with every job I've ever taken on. I currently live in San Antonio and love it here—with wonderful lifelong friends, including my partner who is just as ambitious as I am when it comes to our passions.

What do you like doing in your free time?
I spend a lot of time with my family, my partner, my friends, and my four cats — three of whom are rescues. I go to at least one Renaissance festival every year and make my own costumes. I even crafted a wizard staff out of a curtain rod, a leather strap, a candle holder, a quartz ball, and an LED light! I'm a BIG video gamer when I'm not out gardening or enjoying all the different foods this world has to offer.
Quotes from Jeremy:
"Each customer's experience should be an enjoyable one. I always want my customers to feel familiar with me; like they're calling a friend to see how they're doing."