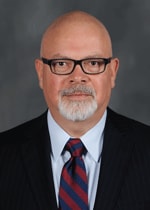 Yossef S. Ben-Porath, PhD
Yossef Ben-Porath, PhD, ABPP, is a Professor of Psychological Sciences at Kent State University and a board certified Clinical Psychologist. He received his doctoral training at the University of Minnesota and has been involved extensively in MMPI research for the past 35 years.
Dr. Ben-Porath is a co-developer of the MMPI-3, MMPI-2-RF, and MMPI-A-RF and co-author of numerous test manuals, books, book chapters, and articles on the MMPI instruments. He has served as Editor-in-Chief of the journals Psychological Assessment and Assessment, and as a member of APA's Committee on Psychological Tests and Assessment.
Dr. Ben-Porath's clinical practice involves supervision of assessments at Kent State's Psychological Clinic and consultation to agencies that screen candidates for public safety positions. He also provides consultation and expert witness services in forensic cases.