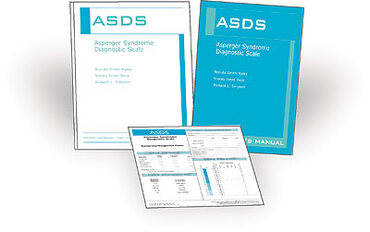 Asperger Syndrome Diagnostic Scale
ASDS
Quickly identify children who might have Asperger Syndrome
Kits

Starter & complete kits, print & digital

Test forms & reports

Booklets, record forms, answer sheets, report usages & subscriptions

Support materials

Manuals, stimulus books, replacement items & other materials

All products

All tests & materials offered for ASDS
ASDS Complete Kit in box

9350DR

Qualification Level

A

Includes Examiner's Manual, 50 Summary/Response Forms

Estimated to ship:6 weeks

ASDS Summary/Response Form

9352DR

Qualification Level

A

Pkg of 50

ASDS: Manual

9351DR

Qualification Level

A

Estimated to ship:4 weeks
Overview
Publication date:

2000

Age range:

5 to 18 Years

Scores/Interpretation:

Standard Scores, Percentiles

Qualification level:

A

Scoring options:

Hand-scoring

Administration Format:

Paper-and-pencil
Product Details
The Asperger Syndrome Diagnostic Scale (ASDS) is a quick, easy-to-use rating scale that can help you determine whether an individual has Asperger Syndrome. Anyone who knows a child or youth well can complete this scale. Parents, teachers, siblings, para-educators, speech -language pathologists, psychologists, psychiatrists, and other professionals can answer the 50 yes/no items in 10 to 15 minutes. The instrument provides an AS Quotient that reveals the likelihood that an individual has Asperger Syndrome. The 50 items that constitute the ASDS were drawn from five specific areas of behaviour: cognitive, maladaptive, language, social, and sensorimotor.
Five subtest scores provide comparative information. The total score identifies individuals with Asperger Syndrome.
Use the test to document behavioural progress as a result of intervention or to target goals on the student's IEP.