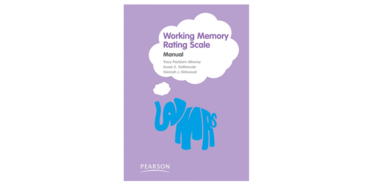 Working Memory Rating Scale
WMRS
Checklist to identify children with poor working memory skills

Please allow for up to 6 weeks for delivery.
Kits

Starter & complete kits, print & digital

Test forms & reports

Booklets, record forms, answer sheets, report usages & subscriptions

All products

All tests & materials offered for WMRS
WMRS Complete Kit

749151005

Qualification Level

A

Includes Manual and 25 Record Forms

Estimated to ship:5-6 weeks

WMRS Record Forms

749151021

Qualification Level

A

Pkg of 25
Overview
Publication date:

2008

Age range:

5 to 11 Years

Qualification level:

A
Product Details
 

The Working Memory Rating Scale ™ (WMRS) is a behavioural rating scale developed for teachers to facilitate easy identification of children with working memory deficits.

Currently, teachers rarely identify memory as a source of difficulty in children with working memory problems, despite their poor classroom functioning. Instead, children with memory problems are typically described as inattentive. The WMRS will increase the chances of the detection and subsequent effective support in school for children with deficits of working memory. It has also been co-normed with the Automated Working Memory Assessment (AWMA) to provide a reliable tool for routine screening of memory difficulties.